! meta property="og:title" content="ANBD - SAPPORO" /> <! meta property="og:type" content="article" /> <! meta property="og:url" content="http://anbdsapporo.info/" /> <! meta property="og:image" content="http://推奨が1500px x 1500px " /> <! meta property="og:description" content="2017 SAPPORO ASIAN WINTER GAMES collaboration project -ANBD Special Poster Exhibition-" />

Specifications for digital image files


2017 SAPPORO ASIAN WINTER GAMES collaboration project
ANBD Special Poster Exhibition
Solo Exhibition Session
Free and creative proposals are urgently needed to revitalize our economic activity today. We will create a forum for Asian creators from various artistic fields. In this session, we are planning to present an exhibition of 12 solo artists. The artists can present their work on a 6m wide × 4m high wall to express their art and design with no particular theme required. There are no restrictions for the presentation style of art: a panel, 3D, or video images, although you need to consult with us in advance due to the limitation of the space.
How to Enter in Solo-Exhibition
Eligibility:
・Anyone over 18 years old at the time of April 1, 2016
・All nationalities are accepted.
12 solo artists are accepted on a first-come-first-served basis.
The artists can submit multiple numbers of work for a 6m wide × 4m high wall (Please look at the URL of ANBD2016 and click the banner for details.)
The artists need to leave a margin around the corners of their work to avoid overlapping other artists.
Ceiling lighting and spotlights are available, but we cannot darken the space as a special effect for one artist because two other artists share the same display space.
After the application, the artists need to submit a detailed plan on number of works, its/their layout and size etc. as well as the description of the work.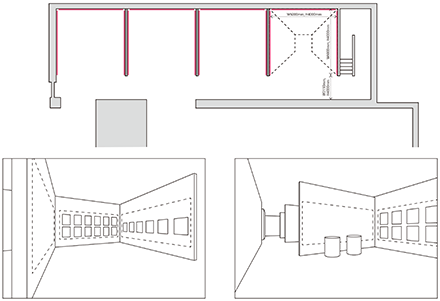 Entry Fee
Adult & students : 50,000 Yen
How to enter
Your entry fee must be paid by bank transfer as per the details below by September 30, 2016. October 31, 2016


Exhibition entry fee from China must be paid by bank transfer as per the details below.

Bank Name: North Pacific Bank, LTD
Branch Name: Makomanai Chuo Branch
Swift Code: NORPJPJP
Account Number: 473-3585056
BENEFICIARY's Name: ANBDKORABOTEN


Address: Sapporo City University,
Geijyutsunomori 1 chome, Minami-ku, Sapporo, Hokkaido, Japan, 0050864
Phone: +81-11-592-2436

*Exhibition participants from South Korea and Taiwan, please follow the remittance method for your entry fee at your regional headquarters.
Schedule of Entry for Solo Exhibition
Application due: Aug. 25. 2016 Oct. 20. 2016
Submission of Solo Exhibition Plan: Oct. 30. 2016
Notification of display plan from the Office to the artists: Nov. 25. 2016
Artists should present their display work: Feb. 7. 2017
Exhibition period: Feb. 8 - 12. 2017
Artists should dismantle their display: Feb. 12. 2017 16:00 - 21:00
Carry-in your work:
Please carry in your works in the finished and displayable state, NOT on digital data.
Display for Solo Exhibition Session
The following things will be supplied at the office: gallery hooks, metal wire, stepladder, double-sided glue tape, thin nails and pins.
Special requests (for example, desk, projector, screen, etc.) can also be supplied depending on individual needs.
Nameplate (A4~3, foam panel finish) will be created by the office. It includes the artists' face photo, name, place of residence, name of their institute, profile, the title of their work, and the description of their work.
Display of the work should be undertaken by the artist himself/herself after 10:00 a.m. on 7th of Feb.7.
Updated information:
June 13, 2016
We are calling for entries now.
---